Bird-loving nun may just wing it
BY DEBBIE TUMA
DAILY NEWS WRITER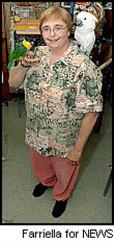 An Amityville nun who keeps more than a dozen exotic birds at her convent for use in pet therapy says she may fly the coop over a sudden request to remove them after 12 years.
Sister Barbara Seaward, 58, who has been a Dominican sister for 41 years, said over the years she has rescued cockatoos, cockatiels, African gray parrots, Amazon parrots and conures. She has trained them for pet therapy at nursing homes, adult day care centers and schools throughout Long Island and Queens.
Seaward said that when she first started rescuing and adopting abused, handicapped and unwanted birds about 12 years ago, they lived in her room at Queen of the Rosary Convent in Amityville.
About three years ago, she was given a private room for them by the prioress of the convent, said Seaward, who just received nonprofit status for her pet therapy organization, called Wings of Love Ministry.
"But on Monday, I was told ... that due to renovations at the convent, there is no more room for my birds, and that they must be removed," said Seaward.
"I got blindsided - I just didn't see this coming. I knew they were renovating, but I was hoping they'd at least find space for them while this was happening. I feel it's a prejudice against the birds - that the administration just doesn't understand the value of these birds and how they can change people's lives."
But Sister Margaret Mayce of the ministry at Queen of the Rosary Convent, said yesterday that, "We know what Sister Seaward does is wonderful, and that she's touched many lives with these birds."
Mayce said with "the entire building being reconfigured" in the near future, the sisters will have to temporarily be relocated somewhere else on the premises, "and at this point, we don't see how we can find any extra space for the birds."
Seaward, a retired nurse, who suffers from multiple sclerosis, said she has no idea where to place the birds, which require constant care and feeding. She said her driving is limited due to her disease.
She said she would consider moving out of the convent building if she can't find temporary foster care for the birds. "But how do you rent a place with a dozen exotic birds, and how would I continue my charity work?" she asked.
Tory McLean, recreational director of White Oaks Nursing Home in Woodbury, said, "It would be a shame if Sister Barbara couldn't continue her volunteer work here. Many of our residents feel no one cares about them anymore, and they really respond to these beautiful birds."
http://www.wingsofloveministry.org/
Originally published on May 17, 2006