MIDWEST AVIAN RESEARCH EXPO 2002
MARE WAS HELD JUNE 21-23, 2002 AT THE HOLIDAY INN IN SYRACUSE. THIS EVENT TO RAISE MONIES FOR AVIAN RESEARCH WAS SPONSORED BY THE GOOD FOLKS OF THE 'CENTRAL NEW YORK CAGE BIRD CLUB.' THE HOSPITALITY NITE WAS SPOSORED BY THE 'BUFFALO HOOKBILL ASSOCIATION.' MANY THANKS TO PHIL & JEAN RIVERA & ALL THEIR DEDICATED MEMBERS FOR ALL THERE EFFORTS TO SUPPORT THE PARROTS.AND LETS NOT FORGET TIM, THE CLUB COMEDIAN & VP. THANKS TO JANICE FOR UTILIZING HER SEWING SKILLS TO HEM UP THE BANNERS..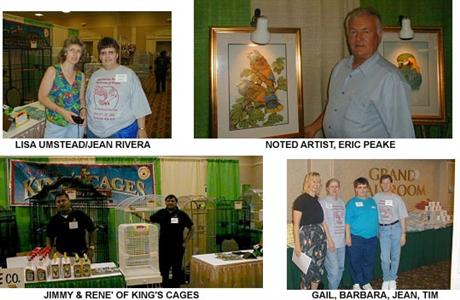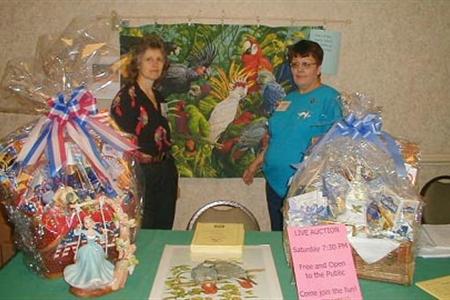 LISA & JEAN/LOOK AT THE LOVELY DONATIONS.
IF YOU LIKE THE BACKGROUND BANNER, IT IS AVAILABLE FOR $75. CONTACT LISA AT PARROTADOPTIONS@AOL.COM FOR MORE INFO. ALL PROCEEDS FROM THE BANNER SUPPORT THE BIRDS OF 'PARROT HAVEN', LONG ISLAND'S 1ST PET BIRD SANCTUARY. THE 'PARROT FANCIERS' CLUB/PARROT HAVEN' DONATED 2 BANNERS FOR THE MARE AUCTION. PLEASE ALSO NOTE THE LOVELY PRINT DONATED FROM ERIC PEAKE.